Posted by pockets
In my never ending quest to make warm, nutritious breakfasts that aren't sweet, are inexpensive and reasonable to make during our very busy farm mornings, I have started making Cream of (Fill in the Blank) Cereal once a week so or so. We have had cream of wheat, cream of spelt, cream of rye and cream of kamut so far. I haven't tried cream of rice yet and I wonder from time to time about the possibilities of cream of barley cereal. Be that as it may, all the hot cereals we have had so far have been delicious and the children have eaten two or three bowls full each time. I must say, though, that my personal favorite is cream of kamut.
If I were of a mindset to worship a grain, my choice would be kamut. The berries are large and golden and buttery looking. They just glow really and make you want to eat them and partake of the glorious nutrition Nature has created for us.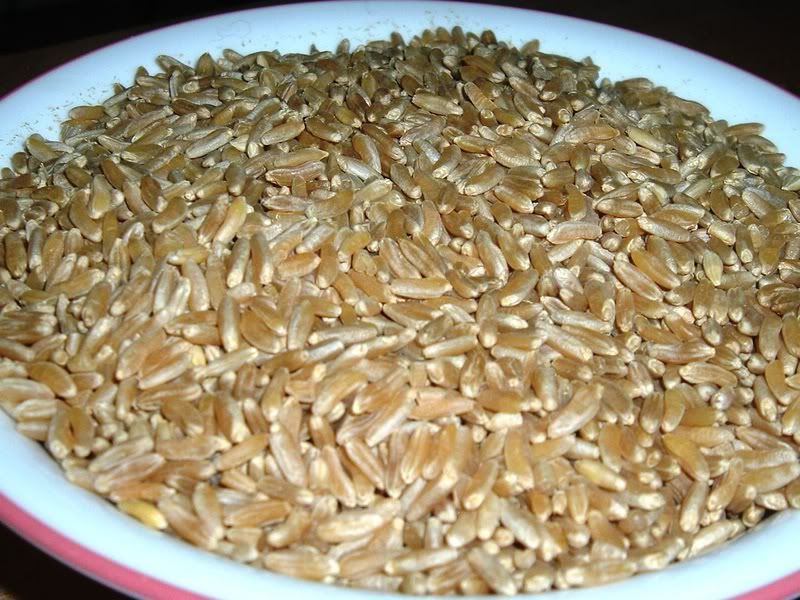 As the Walton Feed people say:
As [kamut] hasn't been altered by modern plant breeders, it retains its ancient nutrition, flavor and goodness.
They also note that:
Due to its slightly higher fatty acid content, Kamut can be considered a high energy grain, and compared to wheat, Kamut also contains elevated levels of vitamin E, Thiamin, Riboflavin, phosphorus, magnesium, zinc, pantothentic acid, copper and complex carbohydrates. All around, Kamut seems to be a very healthy grain.
To read more about the history and nutritional value of kamut, you can look here, here and here. There is also an entire book devoted to kamut entitled Kamut: An Ancient Food for a Healthy Future (see link at end of post). I haven't read this book yet but it is now on my Amazon wish list! For an astonishingly detailed review of what the word "kamut" really means, read this analysis on Polyglot Vegetarian. It is complete with coptic writing and mentions of various Egyptian dictionaries and all sorts of interesting things. (It is truly a wonder what you can find on the internet…)
Donna Spann, whom I have mentioned in a previous post about millet, notes in her Grains of Truth that:
You can use Kamut for most of your baking - breads, muffins, cookies, even cakes. Some folks will cook up Kamut as a hot breakfast cereal, or a pilaf as a side dish. Flaked, Kamut cooks up to a similar consistency to oatmeal. I also like to use the flaked grain in granola and cookies. Don't be afraid to experiment with this terrific and ancient grain that narrowly missed extinction. p. 68
In making an exotic Kamut, Candied Pumpkin and Hazlenut Cake, Mercedes of Desert Candy tells us:
So I got out my standard cake recipe, and I fiddled and tweaked and practiced, and the result was this Egyptian-inspired version. I used kamut flour, a grain similar to wheat, in place of some of the regular flour. Kamut is traditional in Egypt, it is very nutritious, very easy to grow, and a much-higher yield crop than wheat (I don't know why it isn't more widely grown in America, but I suspect U.S. agriculture subsidies have a lot to do with it); the flour has a light yellow color and a slightly sweet buttery note.
Interesting point. Rosa Jackson, on her blog Edible Adventures Paris, Nice and Beyond, describes using kamut flour to make a special homemade pizza:
For my pizza crust I used 20 per cent kamut, resulting in a pale yellow, slightly sweet dough with a lightly crunchy texture.
I have also used kamut flour in pizza crust, bread, biscuits and a number of other baked goods. Aside from my wild enthusiasm about kamut itself, I think using a range of grains in our daily fare is a sound health practice so I switch around which grains I use both to take advantage of their individual characteristics and also just for the sake of variety.
Cream of kamut cereal is probably about the easiest thing you could make with this or any other grain. Here is how I do it:
1. Put 9 cups of water and a teaspoon of salt in a heavy bottomed pot and put on a burner on "high".
2. Meanwhile coarsely grind 3 cups of kamut berries.
3. Pour 3 cups of water into a bowl or large Pyrex measuring cup. Slowly add the kamut flour, stirring madly all the while, to prevent lumps from forming. The resulting mixture will be very thick.
4. Once the water on the stove is boiling, pour the kamut/water mixture into it. Be careful to not get burned by any splashing as the kamut hits the boiling water in the pot.
5. Turn the heat down somewhat and stir the pot until the cream of kamut is steaming hot and thick. If it is too thick for your taste, thin with a bit of water.
That's it. Breakfast is ready. The amount above makes just barely enough for us. Leftovers store well in refrigerator. Smaller families may appreciate the following amounts: 1 cup ground kamut, 4 cups water, 1/2 tsp. salt. Follow the directions the same way (i.e. boil 3 cups of water, mix ground kamut into the remaining cup of water and so on) and also follow these same directions for any other grain of your choosing. If you don't have a way to grind grain, make your cereal with the freshest flour you find at the health food store.
Most folks eat this kind of cereal sweet in which case you may add butter, cream and a sweetener such as maple syrup, agave nectar or sucanat. I, of course, prefer serving it in a more savory manner with lots of farm fresh butter and salt. So satisfying and nutty and delicious and the kamut is a lovely golden color. This morning my husband hit upon the happy compromise of serving it salty but with the addition of dried cranberries. This was fantastic and there were no leftovers whatsoever.
Here is a listing of other kamut recipes on my list to try:
Kamut, Lentil and Chickpea Soup
Kamut Breakfast (although I will have to come up with an unsweetened variation)
and a number of things from this page of kamut recipes at Food Down Under and especially lots of delectable looking recipes at kamut.com.
So we will happily keep eating our fast and tasty cream of grain cereals. If cream of barley turns out to be good also, I will let you all know.
From the beautiful mountains of southwest Virginia,
Leslie

If you would like to support the Pockets of the Future Project, prayers, encouragement and donations are always welcome.